Puffin Crossings content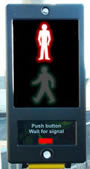 Pedestrian User Friendly Intelligent Crossing
Puffin crossings are like Pelican Crossings but you no longer look over the road for the invitation to cross, the Red and Green Man are mounted on the signal pole at your Left or Right hand side.
The Puffin has been introduced because it is of use to a greater portion of the public, in particular the visually impaired.
The Puffin has detectors that can tell when people are waiting to cross, this is why you must stand by the push button box once you have pressed the button.
When the button has been pressed a red indicator lights up. You must wait until you see the 'red man' change to the 'green man', once the 'green man' illuminates and you are sure the traffic has stopped, walk straight across the road.
These sites are fitted with either an audible alert or a rotating tactile cone (sometimes both) for the visually and hearing impaired.
Contact Details
For signal faults please call:   01382 433829
Email:   dundeeutc@dundeecity.gov.uk