Pelican Crossings content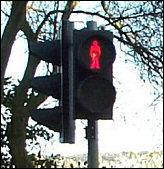 Pedestrian Light Controlled Crossing
Pelican crossings have been around for many years and the first TV adverts starred the voice of Deryck Guyler back in 1969.
Once you have pressed the push button at a pelican crossing, the 'wait' lamp will illuminate. You must wait until you see the 'red man' change to the 'green man', then once the traffic has stopped you can walk straight across the road.
An audible alert is fitted for the visually impaired where operating conditions permit.
When the 'green man' is flashing it means the lights are about to change to allow the traffic to move again and you should not begin to cross the road.
Contact Details
For signal faults please call:   01382 433829
Email:   dundeeutc@dundeecity.gov.uk