Communications Service content
The Communications Service:
provides a professional communications service to all Council service areas and some partner agencies
ensures that the residents of Dundee and the media (local and national) are provided with accurate and up-to-date information about council services, facilities and policies
undertakes media relations and media training while providing advice to all the Council on media issues
assists with the development of the council's social media presence and manages the  Council's Twitter, Facebook, Instagram, Linkedin, Flicker etc. accounts
manages the Council's web content
develops campaigns with national and local agencies as well as services of the Council
provides graphic and web design
Media Contact Information / Out of Hours
For emergency media enquiries outside normal office hours please call 07985 817954.
Email: pr@dundeecity.gov.uk
Communication Strategy
The Communication Strategy for 2018 to 21 sets out how the Council communicates externally and internally. The intended outcome is to deliver modern, multi-channel communications that support the strategic priorities of the council.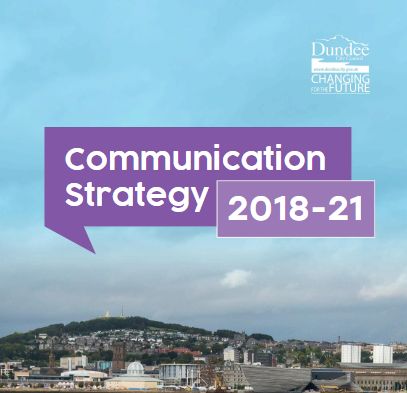 Read the Communication Strategy
Download the Communication Strategy Integrated Impact Assessment (43KB MS Word doc)