Detailed Study of City Retail Sector
19/09/23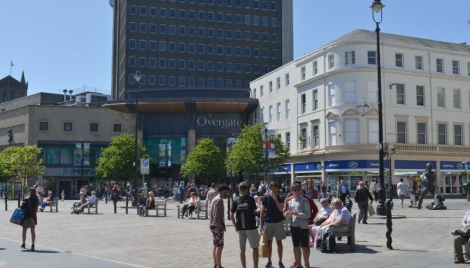 A detailed study of Dundee's retail sector will be presented to councillors at the next meeting of the Fair Work, Economic Growth and Infrastructure committee.
They will hear that as part of early work to review the council's current Local Development Plan (LDP), which was launched in 2019, experts were commissioned to look into the health of retailing across the city's 'town centres'
These are represented by Dundee city centre and the five district centres of Perth Road, Lochee, Hilltown, Albert Street and Broughty Ferry.
Alongside challenges presented by online shopping and the COVID Pandemic, the report highlights that, in the city centre, there is evidence that footfall is recovering with 'green shoots' of retailer interest, including new food & beverage outlets as well as smaller, independent outlets.
Regarding the current "town centre first" principle contained within the current LDP, councillors will hear that "the retail review does not consider that there is a need to identify additional edge of city centre, district centre, or commercial centre sites for new retail development."
Committee convener Councillor Steven Rome said: "This study provides an in-depth analysis of where the Dundee retail sector is now, and where it can go in the future.
"We are working hard to provide the right environment for retailing in the city, with our ambitious City Centre Strategic Investment Plan providing a vision for the city centre as an exciting, growing place to live, work and visit.
"Recent efforts in Union Street show how we are helping the centre to adjust to new ways of working as we look to support more regeneration.
"Developments at the Overgate Centre also give us grounds for optimism. We are also looking to support our district centres, with more work proposed for the Perth Road area to be considered at this committee. Meanwhile consultation continues around the delivery of a pocket place in Eliza Street as part of developments within Stobswell.
"While many challenges remain, and I sure that many more will emerge, this survey gives us a sense of direction and purpose as we move to review the Local Development Plan."
A separate report to the committee will set out the 2023 Development Plan Scheme for the preparation of the Dundee Local Development Plan.
This sets out the timetable for the development of the new LDP which will be finalised in 2029.
The committee meets on Monday September 25.
School Strike Update 22/06
School Strike Update 22/06
Following the suspension of industrial action by both the GMB and Unite unions, Dundee City...
22/09/23
Perth Road Improvements
Perth Road Improvements
Nearly 200,000 could be spent on environmental improvements to Dundee?s Perth Road district...
21/09/23