Winter Maintenance content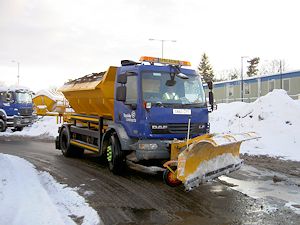 Dundee City Council's aim is to help keep its roads and footways as safe as possible. During winter months we constantly monitor weather conditions and forecasts using modern Ice Prediction and Thermal Mapping Systems. Gritting and ploughing vehicles are on standby to act when required.
Downloads
Route Information:
Roads Winter Maintenance in Dundee applies to both trunk roads and council roads and footways.  Dundee City Council's adopted carriageways and footways are categorised into priority and secondary routes and are covered for winter maintenance from late October to late March. In adverse conditions, priority carriageways and footways are treated seven days a week.
Gritting:
There are approximately 550km of adopted roads and 900km of adopted footways throughout Dundee. Approximately £1.5m is spent each year dealing with winter conditions on these roads and footways. It is not possible to clear all the roads and footways instantaneously, particularly in snow conditions when the gritters and ploughs have to treat the same sections of roads and footways more than once.
Self-help
Over 750 grit bins are provided at locations such as steep gradients, bends, steps and adjacent to sheltered housing. Everyone can do their bit to help, particularly in snow conditions. Clearing footways around your own home and helping elderly or infirm neighbours will ensure that many footways will be safer and easier to use. If shovelling snow, think about where you are going to put it, so that it does not block people's paths, or simply shift the problem elsewhere.  Make sure it will not cause problems when it melts.  Piling snow over gullies or drains may stop melting snow from draining away and allow it to refreeze.  The grit bins will be replenished with grit/salt during the winter for use by the public on a self-help basis but should not be used for treating private property.
Map of Gritting Routes and Grit Bin Locations
Please note:
This map shows carriageway and footway routes only.
Priority routes are principal roads and footways, main bus routes and other heavily trafficked routes.
Other routes will be treated after priority routes are completed in appropriate conditions.
Contact Information
In snow conditions telephone enquiries to the council may be made using the following number: 0800 145 6897