Magdalen Green content
Coronavirus (COVID-19)
All of our parks and green spaces are open and should be used in line with Government advice on physical distancing to help prevent the spread of Coronavirus. Play areas and communal equipment, including outdoors gym areas are also open (update 29 June).
Members of the public should be aware that all public toilets remain closed until further notice (Tues 23rd June). We apologise for any inconvenience caused.
---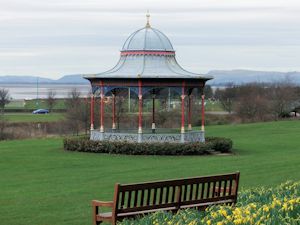 Magdalen Green has the distinction of being Dundee's oldest city park having been in use for some 400 years and has long been used for both meeting and recreational purposes.
The bandstand built in 1890 has become a Dundee icon and hosts concerts on Sunday afternoons during the summer. Built at the Saracen Foundry by Walter Macfarlane & Co of Glasgow it was restored in 1991. The summer of 2009 saw the start of much needed repairs to make it safe for future public use.
In early 2010 Magdalen Green became an integral part of Dundee's flood defences. Four large water tanks were installed by Scottish Water to hold excess rainwater during periods of high tide.
An active volunteer group – the Friends of Magdalen Green helps look after the green, and raises funds for new facilities.
There is an Accessibility Guide available on the AccessAble website.
Contact
Email: environment@dundeecity.gov.uk
Tel: 01382 433710 Option 5
How to Find Us