Cellar Safety content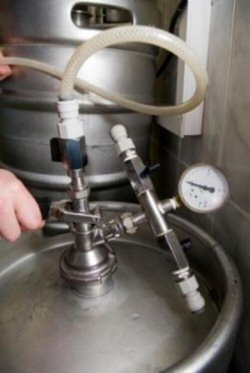 This page contains information that can be used for a cellar risk assessment.  It includes guidance to help employers protect staff and volunteers involved in bar and cellar work, including the delivery of beer kegs and gas cylinders to licensed premises.
Topics include: 
What should be looked at?
Training
Keg and gas bottle storage
Pipeline Cleaning
Falls from Height
Manual Handling 
What should be looked at?
a CO2 gas sensor is desirable because gas leaks are not visible and can cause death through asphyxiation – CO2 is heavier than air and will accumulate at floor level
 positioning of the delivery vehicle, which should allow access to the premises for the movement of barrels, crates, bottles and CO2 cylinders
a notice showing where the CO2 cylinders are stored, including any bulk or "cryoserve" CO2 reservoir cylinders
members of staff must be properly trained to connect and disconnecting cylinders to avoid cross-threading valve damage and gas leakage
empty and full CO2 cylinders must be secured, or chained, to prevent damage
a written procedures for the safe delivery and collection of barrels, kegs, cylinders, bottles etc. which must be enforced
delivery or collection operations, ensure hatches, cellar flaps or trapdoors are secured open, cordon off the area and use warning signs
 Training 
All staff and volunteers involved in cellar work should be provided with information and training on the aspects of cellar management. All training should be recorded. Staff should sign to confirm that they have received their specific training. They should be trained on:
safe systems of work including CO2 detection and leakage procedures
CO2 cylinder connection and disconnection procedures and
manual handling/ safe lifting techniques
All training should be recorded.  Staff should sign to confirm that they have received their specific training
Keg and gas bottle storage
The following points should be adhered to when storing kegs and gas bottles:
managers normally hold access keys
only authorised staff have access to storage areas
only trained and competent staff make adjustments and connections
kegs and casks stored above freezing should ideally be 11-14ᵒC
unused cylinders are stored horizontally with a wedge or upright, secured with a chain, and away from any heat sources
connected cylinders are kept upright and secured with a chain
smoking must be prohibited
Cellar warning card(s) are displayed near cylinders
gas cylinders only transported in ventilated vehicles
CO2 cylinders tested every 5 years
staff advised not to handle frosted cylinder(s)
staff not to enter any area that contains a high concentration of gas
secondary reducing valves set by fitters for individual products and not tampered with by staff
drip tray contents not emptied back into kegs/casks
regular spot checks by manager to ensure existing measures are being used
carry out a risk assessment for the possible need to fit gas monitors must be carried out
action plan in case of a gas leak to be formulated ASAP i.e. informing staff to turn off gas if possible and ventilate area and to contact cellar service if leak is serious
when cellar flaps/trapdoors are open, supervision is needed to stop anyone falling in, also to stop unauthorised access to the cellar or theft
flaps/trapdoors/hatches must be regularly checked and maintained to keep them in good condition - the bolts or fastenings must stop them closing accidentally
where possible, separate designated storage areas should be identified for the different kegs, cylinders, bottles, rubbish etc. while limiting manual handling as much as possible and keeping areas well organised to allow access
provide suitable rigid plastic bins/containers for the collection and storage of broken glass and instruct all staff to use them
adequate lighting and ventilation must be provided
provide suitable low headroom warning notices, insulation, padding etc., and, where necessary, draw attention to low beams, light fittings or fluorescent tubes in the premises
Pipeline Cleaning  
only trained and competent staff should be allowed to use beer line cleaner
gloves, goggles and apron should be provided and worn
all pipes cleaned at least every seven days to prevent a build up of yeast and bacteria, ensuring good hygiene practices
staff must be aware of the contents and location of the Material Safety Data Sheets
pipes should be cleaned using detergent at the manufactures recommended strength and contact time
a 'Danger Pipe Cleaning in Progress' notice displayed in a prominent place when cleaning pipes
pipe cleaning detergent must never sit in pipes during trading hours
 Falls from Height
access to the cellar hatch area should be restricted when in use
hatch only opened when bar closed to the public and all staff in premises advised hatch is open
sufficient lighting on cellar steps and in cellar
handrails leading to cellar kept in good condition
Manual Handling
deliveries at back of premises as close to cellar as practically possible
limit lifting for expectant mothers
 Example Risk Assessment Template  
Email: health.safety@dundeecity.gov.uk
Tel: 01382 433710 Option 6