Tay Road Bridge works
01/06/23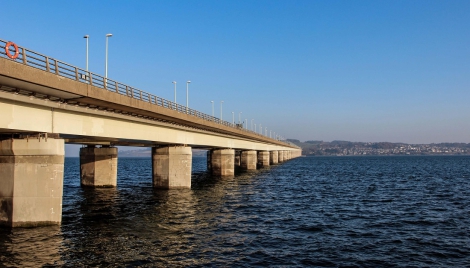 MAJOR WORKS on the Tay Road Bridge, set to get underway later this month, will see the introduction of carriageway closures and traffic management arrangements.
A contraflow will be put on in the early hours of Monday June 12, with the bridge closed between 12.20am and 5am to allow its safe installation.
One carriageway will be closed and both Fife and Dundee-bound traffic will use the remaining carriageway on a single lane basis.
The original 1966 surface will be completely removed down to the concrete bridge deck as part of the works, with waterproofing applied and a new asphalt surface laid on top. In addition, 92 new expansion or movement joints will also be installed.
Chair of the Tay Road Bridge Joint Board Cllr Gary Holt of Fife Council said: "While we understand that this will inconvenient, particularly for people who use the bridge every day, the contract is essential to keep the structure safe and in good condition.
"When work is completed in both directions next year the new road surface will provide a smoother and more secure journey across the bridge for drivers."
While the bridge will be accessible for most vehicle types, wide and abnormal loads will not be able to cross with traffic going in opposite directions separated by reflective marker posts and restricted to a single lane.
The shared path will remain open in both directions at most times but may be subject to some restrictions during certain work activities. Users can keep up to date with the works on the bridge's twitter account @tay_road_bridge.
During the first phase of works, which are expecetd to be completed in November, a maximum speed limit of 30mph will be in place along the length of the bridge to protect bridge users and contractors working on the site.
The speed limit will also reduce delays as lower speeds have been shown to result in less damage to the marker posts, meaning less temporary lane closures to make good the damage.
School Strike Update 22/06
School Strike Update 22/06
Following the suspension of industrial action by both the GMB and Unite unions, Dundee City...
22/09/23
Perth Road Improvements
Perth Road Improvements
Nearly 200,000 could be spent on environmental improvements to Dundee?s Perth Road district...
21/09/23