Applying for your Dundee National Entitlement Card (NEC) content
Apply for your NEC    Update your Photograph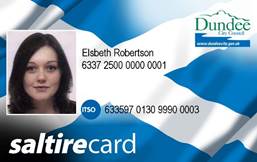 You will need to provide proofs for your Dundee National Entitlement Card so that we can confirm your details.  You can check below to see what proofs you will require.  If you are applying for the natoinal travel concession you may require additional proofs.
Apply for your NEC in one of these simple ways:
Apply Online
You will be guided through the application process online.  You will be asked to provide proofs as part of this process.
Apply in person
Simply bring your proofs with you to Dundee House, 50 North Lindsay Street, Dundee
Completing an application form
If you would rather you can print off and compete this application form and bring it in to Dundee House, 50 North Lindsay Street, Dundee with your proofs.
If you are in any doubt please call 01382 433267 Customer Services, inform staff you wish to apply for a National Entitlement Card and give them your name and address.  They will advise what documentation you should bring with you as proof for your card.
We have a texting service for deaf / hard of hearing - the number is 0786 0022 899.
Acceptable Proofs
A complete list of acceptable proofs is available here.
NCT002 Mental Health Certificates and NCT003 Epilepsy Certificates for the national travel concession are available to download for completed by authorised persons and should be submitted with the rest of your proofs.
If you don't have proof of photograph please print our Photo Form and have it completed with an attached passport type photograph with the rest of the form completed by an appropriate referee.
Delivery
Once your application has been processed your NEC will be delivered to your home address.