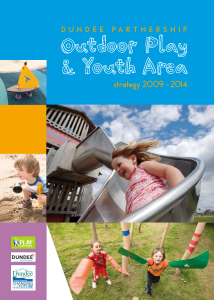 We are committed to making Dundee a more child-friendly city. The provision of high quality outdoor play is a key element if we are to achieve that goal.
Through play, we build our own confidence; we develop our imagination/creativity. We learn to interact with others and to express ourselves. Play is one of the most important ways in which we learn, and when it is undertaken freely in a safe and challenging environment, it helps us to become effective adults.
The challenge of providing quality outdoor play experiences for young people is one that we recognise and one which can only be met with ongoing support from a range of partners. This document sets out a strategic framework for the development of outdoor play in Dundee. It is not a time-limited strategy, and many of the policy statements and recommendations contained in the document will have ongoing relevance. Progress, however, will be reviewed periodically and a report brought back to Dundee City Council for its information and approval.
The City Council with its partners look forward to working with children, their parents/carers and other agencies to create the kind of opportunities for play that will strengthen Dundee's citizens of the future.
Contact Details
Stewart Murdoch
Director, Leisure and Culture Dundee
Email: stewart.murdoch@dundeecity.gov.uk
Tel: 01382 307460